Younger Americans more likely to view China 'favorably' than older Americans, survey finds
A recent Pew Research survey indicates that Americans' opinions of China are mostly unfavorable.
However, younger Americans are much more likely than older Americans to hold a favorable view of the communist regime.
According to a survey conducted published Tuesday by the Pew Research Center, most Americans view China unfavorably. A slight majority of younger Americans 18-29 have an unfavorable view of China, but the poll indicates that they are considerably more likely to have a favorable view of the communist country than their parents and grandparents.
According to the survey, 66 percent of Americans overall said they have an unfavorable view of China, which is the highest unfavorability rating in recent history. Additionally, around 90 percent said they view China as a threat. Among those viewing China as a threat, 62 percent said they view the country as a "major threat."
However, the poll found significant generational divides in how Americans view China. Specifically, 53 percent of younger Americans between the ages of 18 and 29 said they hold an unfavorable view of China. That number was nearly 20 points higher for Americans over the age of 50, with 71 percent of those individuals saying they view China unfavorably.
The survey indicates that "this is the first year in which more than half of younger Americans also have an unfavorable opinion." However, their opinion is still considerably less unfavorable than that of older Americans.
[RELATED: Disturbing number of young Americans favor communism, poll finds]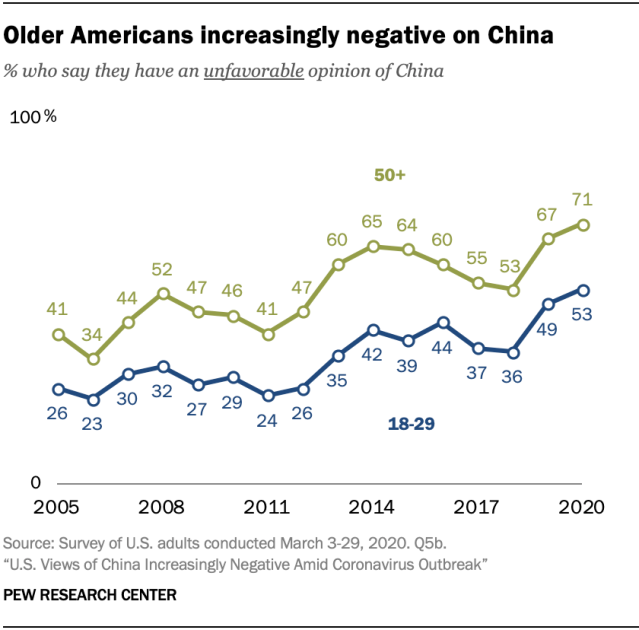 [RELATED: University changes tone, shutters Chinese Communist Party-funded Confucius Institute]
Speaking to Campus Reform, Jim Carafano, Vice President of the Cullom Davis Institute for National Security and Foreign Policy at The Heritage Foundation gave some deeper insights into generational differences in Americans' views of China. Carafano said that older Americans "still remember the Cold War, and an adversarial world" where American values were pitted against those of the former Soviet Union.
By contrast, Carafano opined that younger Americans have not experienced such a global paradigm. Rather, he said, they have experienced terrorism, but added, "terrorism isn't exactly the same as aggressive great power competition."
The survey comes as other recent surveys have found younger Americans have an increasingly favorable view of communism.
According one poll, 36 percent of Millennials said they approve of communism, a 10 percent increase from the previous year.
Follow the author of this article on Twitter: @Leo_Thuman