WATCH: California college profs block traffic over union negotiation
Professors and students at California College of the Arts blocked traffic to push back against job cuts.
The protesters tied themselves in yellow caution tape as they marched into the streets alongside the Democratic Socialists of America.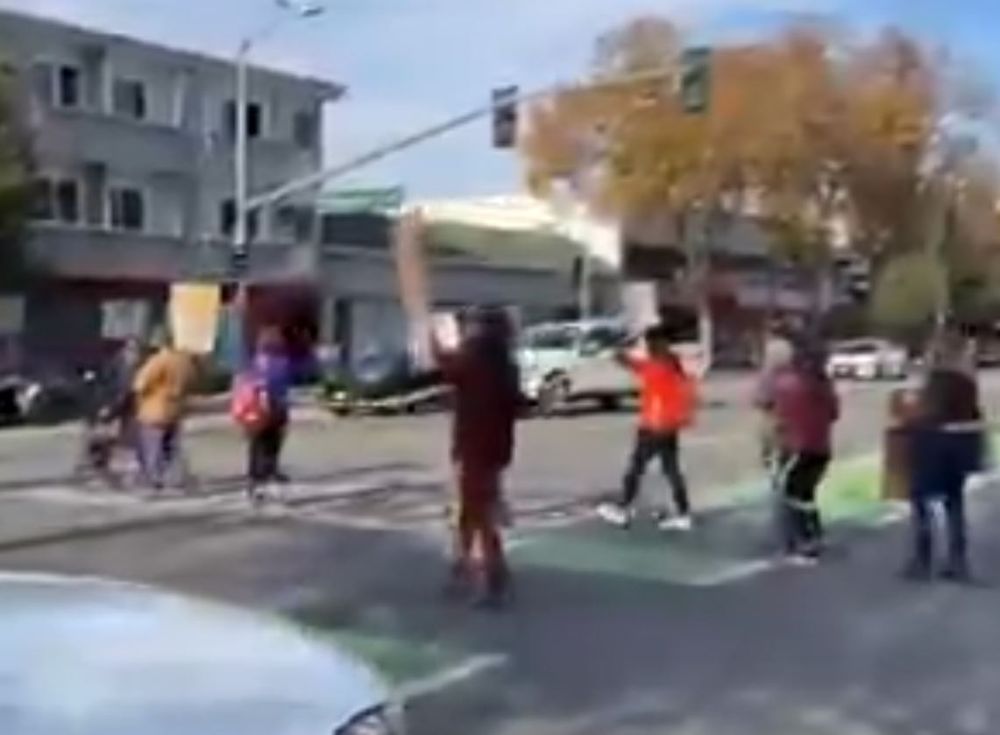 Trending
Could not load trending articles
Professors, students, and adjunct staff at California College of the Arts blocked traffic in Oakland over union contract negotiations after negotiations over COVID-19 protections stalled.
"We're facing uncooperative response from the administration," adjunct professor and union negotiator Kseniya Makarova said, according to KCBS Radio. "Our team has been developing our proposals for a year now, we've only had two bargaining sessions at the tail end of this and they've been unproductive."
The protesters, who were joined by the East Bay Democratic Socialists of America, gathered in Oakland in late November on a Sunday afternoon.
Thanks again to all our members that joined us and @CCAAdjunctUnion yesterday! Big thanks to our @seiu1021 fam, Mills Staff Unite, and @DSAEastBay for standing with us as we continue our fight for a fair contract @CACollegeofArts! #solidarity #CCAStaffUnion #seiu1021 #ccarts pic.twitter.com/Z1QPmSSMvG

— CCA Staff Union (@sfoakunite) November 23, 2020
"What kind of power? Union power," said the protesters as they marched into the street tied together in yellow construction tape.
Right now...staff and adjunct professors at California College of the Arts are blocking traffic at Broadway and Clifton St outside the school. They're trying to draw the attention of the college president to agree to a new contract with COVID-19 safety measures. pic.twitter.com/SFlJ3REvrs

— Matt Boone (@MattBooneNews) November 22, 2020
Following the protest, California College of the Arts spokeswoman Ann Wiens told KCBS radio that the parties had reached "tentative agreements" on "several points."
[RELATED: Berkeley prof: 'Law and order' is a racist dog whistle]
A petition published by the CCA Adjunct Union calls for the school to "maintain all adjunct faculty positions" and "make public the university's finances."
"We have heard administrators insist on maintaining a 'balanced budget,' but transparency in budgeting must be foundational as we go forward," explained the petition. "Cuts should not be accomplished on the backs of CCA's most vulnerable and crucial laborers."
[RELATED: American U profs promise to accommodate students jailed during potential election protests]
In addition to asking the school to keep adjunct faculty jobs, the union requested smaller class sizes, as doing so would also improve social distancing.
Calling the school's "commitment to social justice" aspirational, the union concluded that CCA "must do everything it can to prevent the current economic crisis from becoming a human crisis."
CCA Adjunct Union and professor Noga Wizansky told Campus Reform that "negotiations have not progressed" since the protest. The college's lawyer "is now attempting to set preconditions on the bargaining process instead of coming to the table to negotiate."
California College of the Arts media relations manager Taryn Lott told Campus Reform that "bargaining teams for the college and the union have continued to negotiate, both before and since the protest—including a productive meeting with the staff union on November 20, and two more upcoming this month. CCA greatly appreciates the work that the negotiating teams representing both the union and the college are doing in the course of collective bargaining to come to a successful agreement and fair contract."
Campus Reform reached out to California College of the Arts and the CCA Adjunct Union for comment and will update this article accordingly.
Follow the author of this article on Twitter: @BenZeisloft