Campus Profile: Northwestern University
Northwestern University is a private university in Illinois. Around 8,300 undergraduate students are enrolled at the university.
Campus Reform Campus Profiles evaluate individual American college campuses based on liberal bias, speech codes, and other relevant policies and factors.
Northwestern University is a private university in Illinois. Around 8,300 undergraduate students are enrolled at the university.
Official Political Student Organizations:
Conservative Organizations:
Alexander Hamilton Society
College Republicans
Fiedler Hillel Student Life
Save a Child's Heart
TAMID Group
Wildcats for Israel
Liberal Organizations:
Advancement for the Undocumented Community
College Democrats
College Feminists
For Members Only
For Us, By Us
Menstrual Equity Activists
Planned Parenthood Generation Action
Rainbow Alliance
Students for Justice in Palestine
Swing Left
Team Enough NU
UNICEF NU
WildCHAT
Womxn In Economics
Young Democratic Socialists of America
Queer Pride Graduate Students Assocation
Diversity in Biological Sciences
Peer Inclusion Educators
Northwestern University Women Filmmakers Alliance
Indivisible (Chapter at Northwestern)
Out in Science, Technology, Engineering, and Mathematics (Graduate chapter)
Student Counselors for Social Justice
Social Justice Education
Northwestern University Fossil Free
OpenSecrets Data on Northwestern University Employee Political Donations:
In the 2020 election cycle, 90.94% of Northwestern University employee donations went to Democratic candidates in federal elections, while 9.06% of donations went to Republican candidates in federal elections, according to data from OpenSecrets.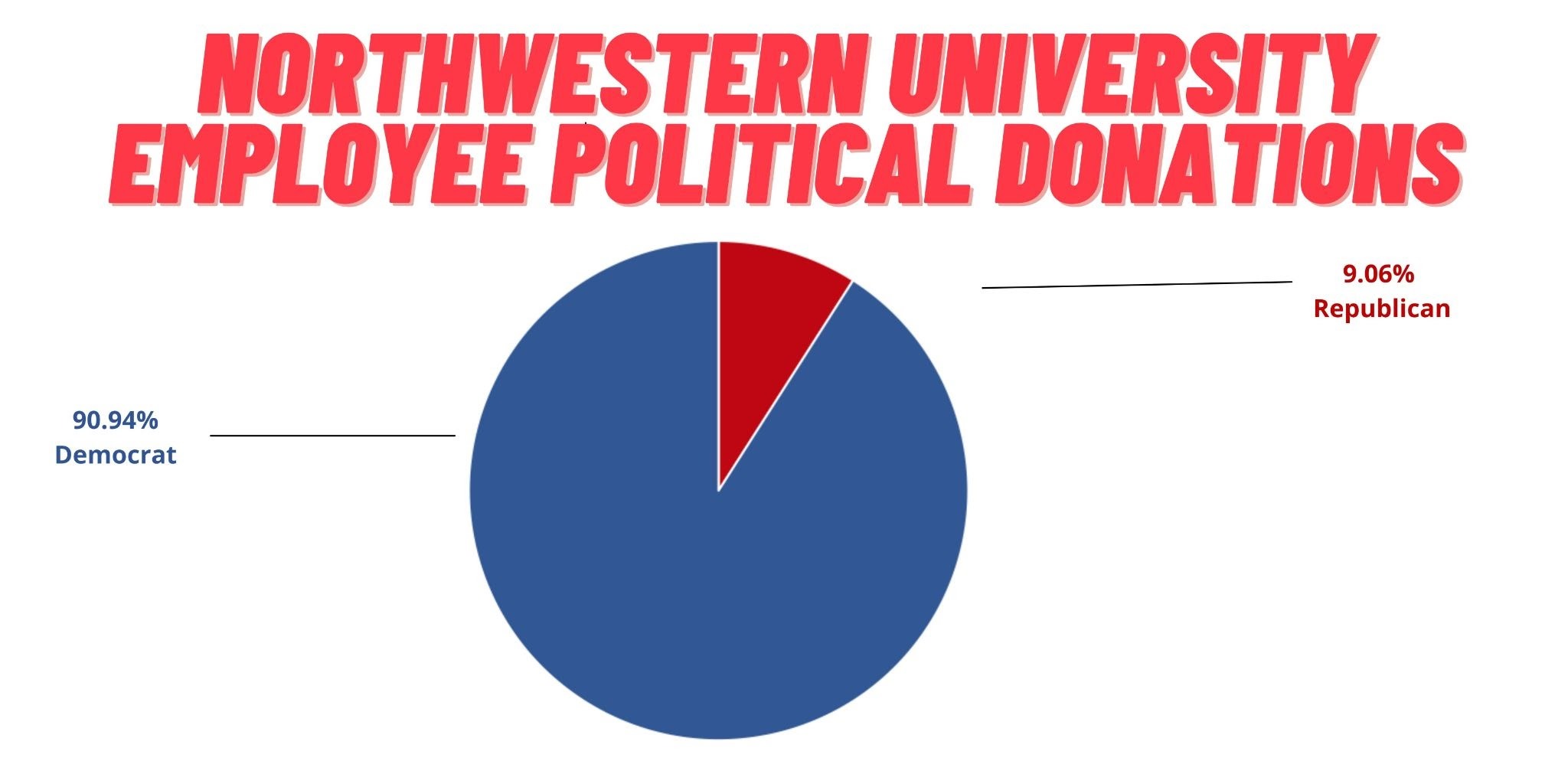 Foundation for Individual Rights in Education Rating:
Northwestern University has been given a red light speech code. According to FIRE, this is due to "at least one university policy clearly and substantially restricting freedom of speech." FIRE also notes that a red light policy at a public institution is unconstitutional.
COVID-19:
Northwestern University is requiring a COVID-19 vaccine mandate for students.
Stories by Campus Reform about Northwestern University:
Northwestern Univ public safety report suggests 'defund the police' measures as crime in nearby Chicago soars
The "external review" proposes banning campus police officers from describing the race of criminal suspects. Another recommendation from the report suggested relying more heavily on social workers than police officers. These types of recommendations are the same proposals brought forth by "defund the police" advocates.
Northwestern celebrates Black history month with… BDSM?
As part of its Black History Month programming, Northwestern University is hosting a sex worker named Electr0papi to lead a BDSM workshop. Student and faculty participants "will be introduced to the ways that the body can harness BDSM play/Kink as a tool of reclamation."
Northwestern U student government pushes university to remove conservative from presidential search committee
Northwestern Associated Student Government voted 17-1 to recommend removing a Donald Trump supporter J. Landis Martin from the presidential search committee. A co-author of the resolution claimed this action was necessary due to Trump's policies affecting marginalized people.